The Show
Good Eats was a show on Food Network that run for 13 years and aired more than 250 episodes. It was an unusual cooking show, like nothing else till then, nothing else after. The host, Alton Brown, narrated the viewer through the history, science and social significance of the food. Not many show are like that! It is one of the shows that inspired me to have a different view to food and in way it spiral all the events that lead to the creation of this blog!
As the show host explained, when he got the idea of the show he wrote on a piece of paper the three elements that he wants the show to have: Julia Child, Mody Pythons and Mr. Wizard. And he did. His food was never complicated or fancy. It was simple and delicious just like Julia's. The show very often was inspired from movies like "Sweeny Todd" or "Misery" packed with corky jokes, pop references and a healthy dose of sarcasm just like watching a Mody Pythons movie. Finally he took a very scientific approach to food anywhere from the reaction that take place when you cook something to the equipment that is used to prepare it. Very often he will take a MacGyver approach to substitute a cooking device or improve another one, a clear inspiration from the Mr. Wizard show.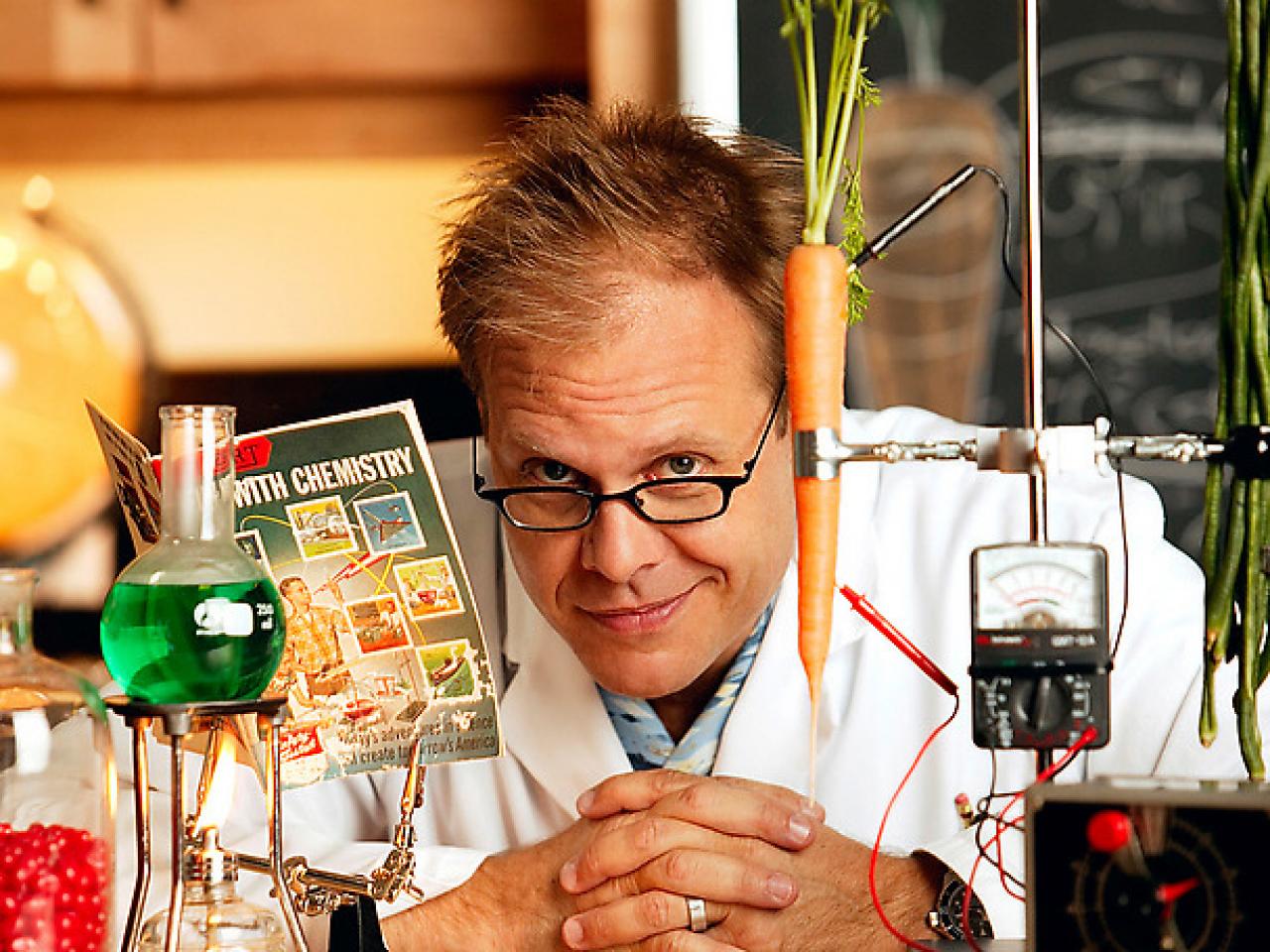 In the cycle of the 13 years the show significantly changed by becoming more theatrical, more scientific and creating a cult. The show is widely known for using actors, creating character and portraying historic figures that Jefferson, Washington, Carver, Paster etc. However, for all the fans of the show Alton Brown is known for the term "Unitasker" and the phrase "That's Another Show". the first was a term to describe cooking devices or tools that can only have a single function and offer nothing to the culinary toolbox. As the host used to say the only Unitasker allowed in his kitchen was the fire extinguisher, which however, in the 150 episode anniversary he demonstrated that it is not a unitasker by making a smoothie with it. The other phrase is very characteristic when during an episode he will reference another dish, which due to time he wouldn't prepare.
That's Another Show
Over the years he collected a large number of "Another Show" recipes or episodes. Some of them he already did but most of them he didn't and many of the show fans, myself included, feel that Mr. Brown owes us. Here I have a small tribute to the show by listing all those "Another Show" moments. I am in the process of re-watching all the episodes through the rerun of the show at the Cooking Channel (and the complimentary on-demand service).
I will update the list as I go!
That's Another Show Episode List
Episode
Another Show
Status
Season 9 
Episode 1
Snow peas consumed raw (they have to wait for their own show)
Active
Season 10 
Episode 5
What happens when water gets at home
Done! Episode S10E06
Episode 6
Relationship between ice and the cook
Active
Episode 12
Turkey neck and giblet
Active
Episode 14
Sweet version of antojitos
Active
Episode 20
Button mushrooms
Active
Season 11
Episode 4
Fancy substitution willful improvisation
Active
Coconut Cake
Done! Episode S11E03
Cook like a bee contest
Active
Episode 7
Venison with sweet compost
Active
Season 12
Episode 1
Dessert pudding
Active
Episode 6
Venture deeper in the diary of great grandpa Brown
Active
Episode 10
Gee
Active
Episode 13
Blood oranges
Active
Orange cubes in champagne
Active
Homemade ginger ale
Done! Episode S12E11
Season 13
Episode 6
Apple and apricot brandy for punch
Active
Episode 8
Spinning sequels of these puppies
Active
Beer battered cod
Done! Episode S02E10
Episode 9
English truffle with leftover pound cake
Active
Episode 10
Pumpernickel bread
Active
Episode 12
Tequila
Done! Episode S13E14
Beyond Cooking with Booze(extracts)
Active
Episode 13
Green tea
Active
Episode 14
Home made Worcestershire sauce
Active
Episode 17
Wet masalas
Active
True Indian pantry (several more episodes of good eats)
Active
Season 14
Episode 2
Grilled pizza
Done! Episode S14E05
Episode 10
 the corn candy dough can be shaped in other forms
Active
Episode 12
Pumpkin carving
Active
Other pumpkin pure fine applications
Active
Episode 19
Crystalized ginger
Done! Episode S12E11
Hard sauce
Active
Episode 22
Japanese noodle
Active
Bread stealing
Active

The episode listing followed here is from TV Rage and Wikipedia.